On 11 Feb we discovered a disgustingly smelly leak of raw sewage, flowing into Bourn Brook. It was probably coming from a broken underground sewage pipe between Caldecote and Bourn Sewage Treatment Works.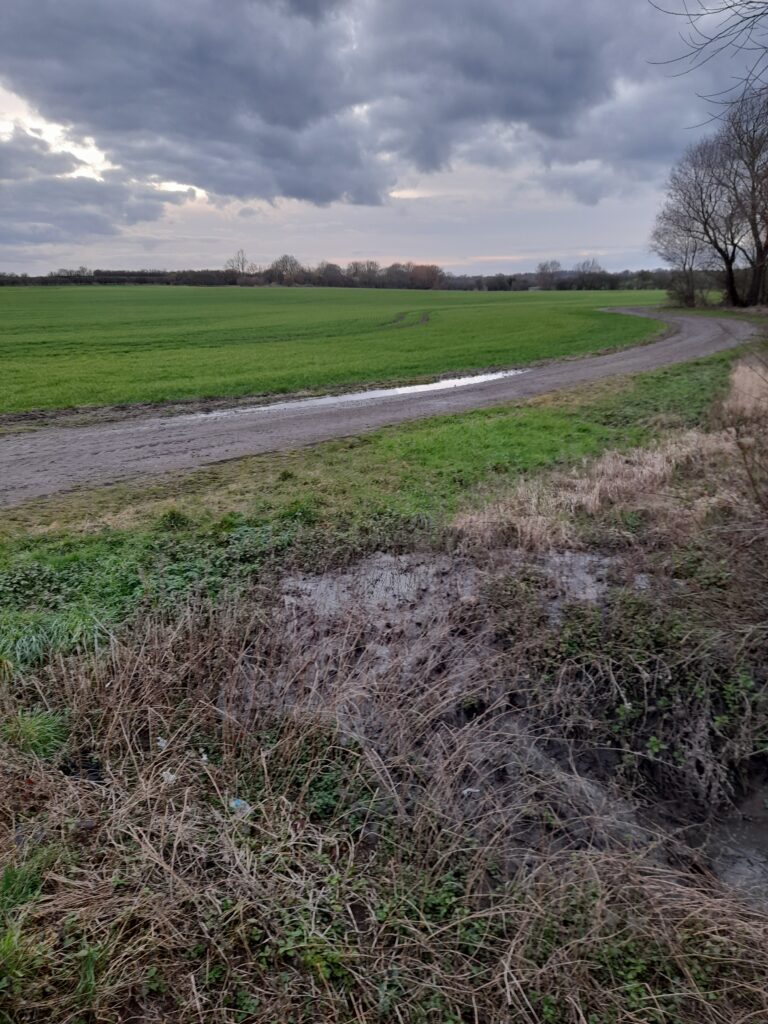 Our volunteer says:
"I was taking a water sample from Bourn Brook for a CVF phosphate project on Wednesday afternoon and noticed a muddy and wet patch on the headland in a field of cereal opposite my sampling point. This close to Main Street bridge just within the Caldecote boundary. There was no water flowing from it. A sign on the gate into this field had P.X. Farms Ltd, Caucote Hill. It was obvious that there had been recent water movement from the patch down the bank and into the Bourn Brook. I assumed it was surface water collecting off the field which slopes towards the Brook.
"I was passing there this afternoon and took another look. At 4.52pm water was gushing out of the headland patch, with two geysers reaching 10cm high, and a considerable amount of water was entering the Brook. It smelt of sewage from the road bridge, and closer to it there was surface scum, a stronger sewage smell and some cloth and plastic looking wipes. The distribution of these materials around the edge of the patch suggested that at some previous time the upward flow out of the ground there had been stronger.
"I phoned the AWS number at 4.54 and reported in the incident and was told that someone would visit within four hours. After 10 minutes the gushing stopped, and it was not gushing at 5.45. There is a AWS pumping station 100m away, and the headland patch is roughly in a line towards Bourn STW from it.
I believe that this overspill has been occurring intermittently for at least two days. Unfortunately my photos don't show the spill well. A grey-brown plume in the water from the entry point looks like soil. "
Raw sewage from flowing from broken sewage pipes is likely to be one of the reasons why the results of our tests for faeces in the Cam were so bad last month.
This this sort of thing is happening all the time. It must stop.