Cam Valley Forum is pleased to be collaborating with the local Wildlife Trust and the Farming and Wildlife Advisory Group on an exciting pilot project to restore heavily eroded areas of the Grantchester Meadows river bank.
The project has been offered a total of nearly £10,000 in funding, so long as the community can match this, and so long as we can complete the work before the end of March 2022.
Do join us in supporting this project, using the "Donate" button here
Read more about the Grantchester Meadows Project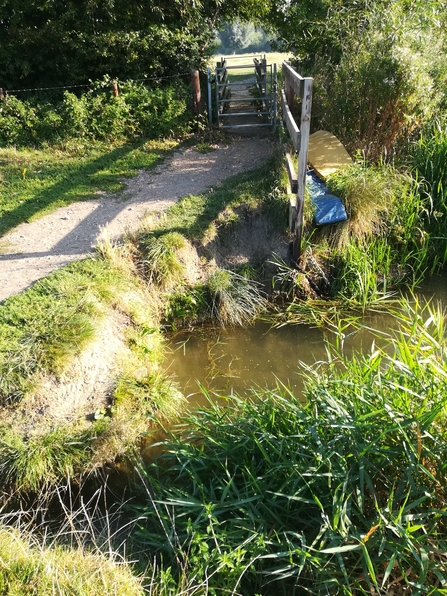 The Grantchester Meadows Riverbank Pilot will address some of the severe erosion to the banks of the River Cam at Grantchester Meadows. Use of the banks by cattle, people and dogs has led to bank erosion, removal of marginal vegetation and silt inputs to the river, which can impact on water quality. Areas of cattle trampling adjacent to footpath gates has also created safety issues, particularly noticeable in winter.
The project will create two new "cattle drinks" – gently sloping access points to the river with a hard stone base – so that cattle can get to the river safely while reducing erosion and siltation. Soil from the work will be used to repair banks next to the footpath, which will then be protected with a short stretch of fence. Marginal vegetation is expected to thrive in these areas, providing refuge for water vole, waterfowl and invertebrates. The aim is to trial ways to rebuild and protect the banks using natural materials, and to learn lessons which can be applied to other areas of Grantchester Meadows.
Please consider making a donation to support this vital work to protect the riverbanks and keep Grantchester Meadows special. This work is being conducted by the Wildlife Trust, in collaboration with Cam Valley Forum and FWAG East on behalf of the landowner.