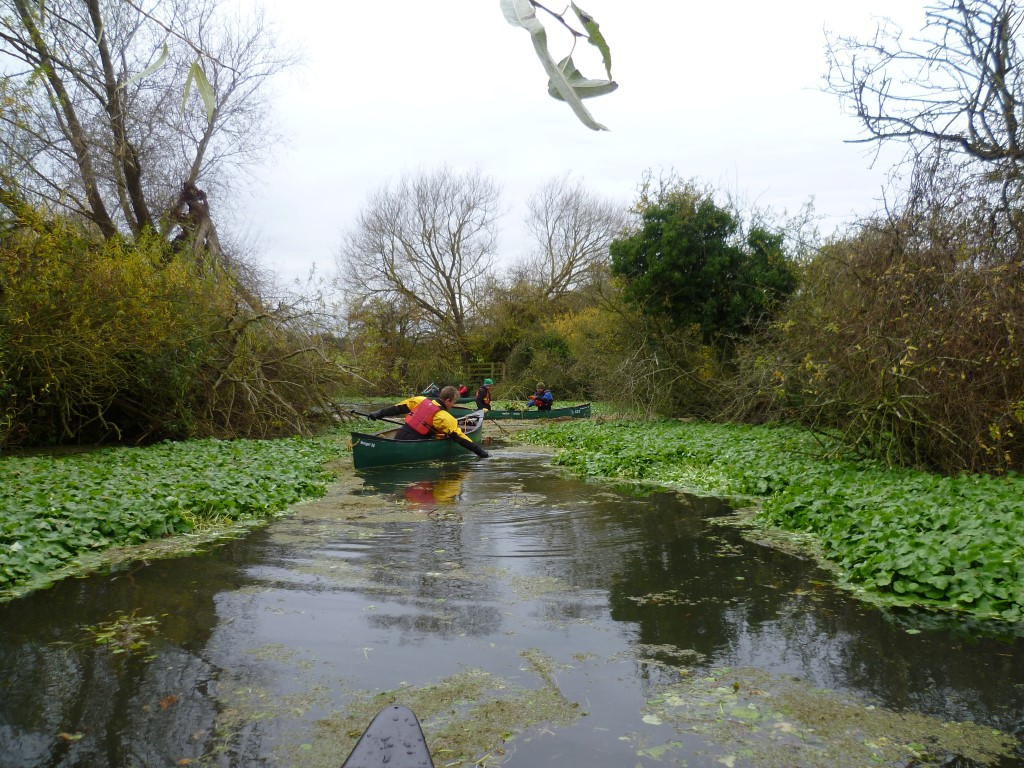 Clearing a path through the Floating Pennywort, Grantchester Meadows, Nov 2017
Thanks to a grant from Cambridge Water's PEBBLE fund, recent match funding from the Environment Agency and support from a variety of other organisations, we will be engaging the contractors ML Partnership to prune back about 1km of the willows that are drooping into the Cam as it flows past Grantchester Meadows. These trap the Floating Pennywort and make it impossible to clear.
The tree works should make the upper Cam much less likely to become totally clogged with Pennywort in 2018. It will also help in our aim of  eradicating it from the upper Cam within 5 years.
The work will start on 5 Feb and last several weeks (depending on the weather).  Because of the very wet conditions, it will have to be done from the Grantchester Meadows side, so we apologise in advance for the temporary mess and any inconvenience.
River users please be aware that there will be a chicane catchment boom installed just upstream of the Riverbank Club until Easter in order to help catch the released Pennywort and other debris. This will be clearly marked.
This project is supported by many volunteers and:
Cam Conservators (funding and loan of catchment booms)
Cambridge Canoe Club (help installing and clearing catchment booms)
Cam Valley Forum (management and funding)
The Environment Agency (funding and mechanical clearance)
Grantchester Trust (funding)
The Riverbank Club (temporary storage of booms)
Scudamores (funding and punts)
Trumpington Farm Company (funding and debris clearance)
The Wildlife Trust BCN (management and advice)