Water
Water Resources
Water Quality Data
Drought or Flood?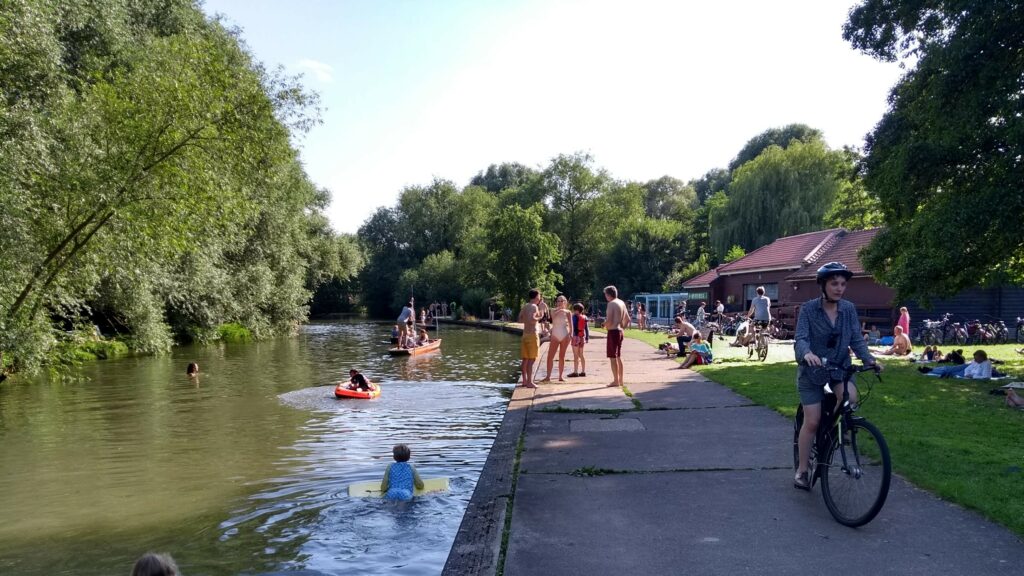 This page introduces the water quality testing that we've been undertaking during 2021, aiming to understand the reasons  for the poor water quality of the River Rhee and the River Cam around Cambridge – from Haslingfield to the city at Jesus Green. 
CVF's two main concerns in this area are the health risk from bacteria and viruses from human and animal faecal sources, and secondly the detrimental effects of eutrophication. Eutrophication is the process by which rivers become excessively enriched with minerals and nutrients such as nitrate and phosphate. This has a significant detrimental effect on the ecological balance of the river and increases the growth of algae and invasive plants such as Floating Pennywort. Excessive plant growth reduces biodiversity, sensitive plants suited to low nutrients decline, and plant decomposition by bacteria results in reduced oxygen levels which harms invertebrates, fish and other wildlife.
We all want Chalk streams – and the Cam is one – to be crystal clear and unpolluted. We all want the Cam to become cleaner and less eutrophic. This needs both less pollution, and clean water to dilute and wash away contamination. However, in summer the water levels in our aquifier are now so low that the "natural" flow rate reduces significantly, which increases the concentrations of organisms arising from sewage effluent, of soluble nutrients and of other pollutants. In an attempt to maintain river flows and reduce the concentrations to permitted levels, water is pumped out of the aquifier into the rivers.
This circular process of abstracting scarce water from the aquifer and then augmenting the Chalk streams is ecological madness: we need to reduce the pollution at source.
Faecal pollution
To try to find out where the pollution is coming from locally, we are monitoring water quality. To explore faecal contamination, we are taking water samples at strategic points and having them analysed for E. coli and intestinal enterococci bacteria (whose presence is an indicator of poo contaminating the water). We are also sampling for phosphate and nitrate. We're monitoring water turbidity (murkiness) by establishing a photo library.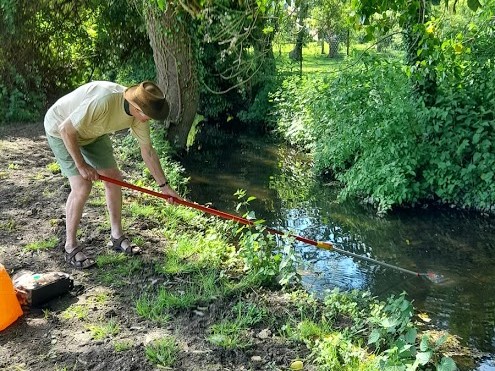 The official current standards for Designated Bathing Waters in England are based on multiple bacterial counts by the Environment Agency over a summer season which are used to give the waters a classification status for the following season. Unfortunately, even though lots of people swim in the Cam, the Environment Agency is not testing the Cam as there are no 'designated stretches'.
Bathing Waters are classified as poor to excellent according to the counts of both E. coli and enterococci at the designated bathing water. Counts are presented as numbers of bacteria per 100ml of sampled water and this is how our results are reported by the lab to us, (but not quite in the same way that the EA receive their counts). Like the EA, we use a UKAS accredited professional lab to analyse the samples.
Results from our initial tests are shown here. The highest bacterial counts were found in the treated effluent emerging from the Haslingfield Wastewater Treatment Works (a.k.a. Sewage Works) above Cambridge, and even a few hundred meters downstream of the treatment works, the contamination levels were still high.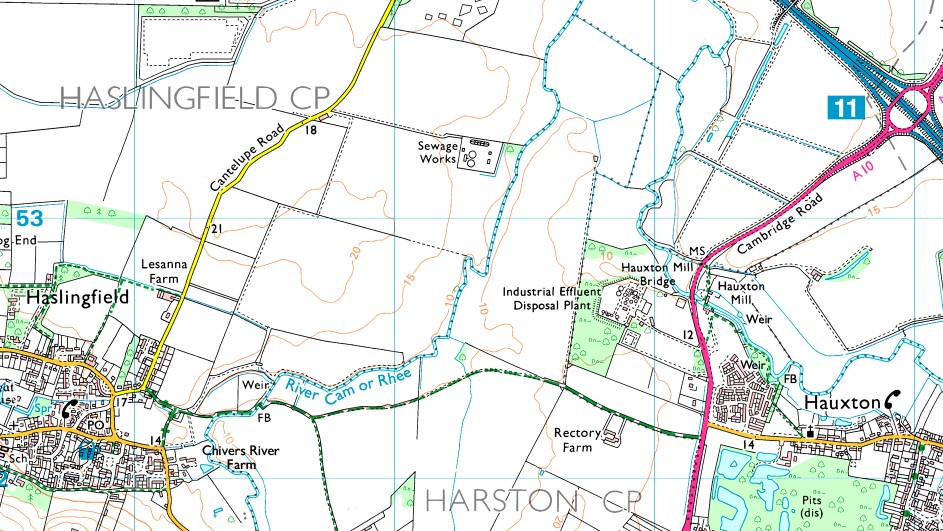 We found moderate counts of faecal indicator bacteria above the Haslingfield Treatment works. Asthese got worse further upstream towards Melbourn, Haslingfield is clearly not the sole source of bacterial pollution in the Rhee and Cam.
Faecal contamination levels were much higher in August than in June, probably mainly because there was much less flow in the river to dilute the effluent from the water treatment works.
The counts declined further downstream towards Cambridge, with some localised increases along the way resulting perhaps from faeces from animals, birds or other sources. Two tributaries contributed some faecal bacteria, another was apparently very clean. By the time the river reached the centre of Cambridge, counts were lower. However, note that drinking water at the tap should have no E. coli at all, and none of our samples were that clean.
Although we expect that swimmers and other river users will find the results of great interest, however please note that our results should NOT be used as guidance as to where or when it is safe to swim. We are amateur volunteers, and we are NOT testing according to statutory standards set by Defra.
We believe that changes in weather and rainfall should influence the results, and are trying to understand this process. This means that the conditions when the samples were taken may be very different to the situation today, and we might find a very different pattern of counts next time we sample
There may be nasty human pathogenic organisms in the river that our indicator bacteria counts don't reveal.
We know that some of the sewage treatment works above Cambridge occasionally discharge untreated sewage mixed with storm water (combined sewage overflows – CSOs). We intend to assess their impact on counts of the indicator bacteria.
Don't forget that some faecal presence in the river is natural.
As our database builds and if results are consistent, we hope we can give a broad view on stretches which appear to be more or less safe. For our next sampling, we will include the section from Jesus Green to Waterbeach to extend our knowledge of the lower Cam.
Our general advice is to
Use your own judgement about when and where its safe for you to swim.
Never drink water from the Cam (always keep your mouth shut when swimming)
Dry off by vigorous rubbing with a towel.
Shower as soon as possible after leaving the water, particularly if you've got muddy.
Don't swim just downstream of sewage treatment works.
The Rivers Trust advise not to swim in the days after a period of heavy rainfall.
Nutrient pollution
We also monitored nitrates and phosphates which are the main contributors to eutrophication.
Nitrate levels were high at every sampling point. This is because nitrates have long been at high levels in the aquifer, leached down through the soil profile from arable fields decades ago. To try to prevent further increases, 'Nitrate Sensitive Areas' were set up in 1990, followed quickly by 'Nitrate Vulnerable Zones' to try to control nitrogen losses from farms, but it will take decades to clean up the aquifier.
Phosphorus (as in phosphate) comes largely from a legacy of overuse of agricultural fertilisers in the past, and from effluent discharged from sewage treatment works into our rivers. Excessive winter rainfall washes phosphorus thats bound to field soils and ditch sediments into the river. Recent significant reductions in levels in sewage effluent have been achieved and new regulations will force further reductions through more investment in infrastructure to capture more of the phosphorus. Water companies need to be encouraged to reduce effluent levels to the Technically Achievable Limit which has recently been tightened.
All sampling points except Vicar's Brook were in the EA's 'poor' category for phosphate. Vicar's Brook phosphate level was low (i.e. excellent) because the water source is the spring head at Nine Wells which is fed from the aquifer.
Together, the levels of nitrate and phosphate were high enough to create eutrophic conditions at our sampling sites in the Rhee, Cam, Granta-Cam and Bourn Brook
Do join us.
To continue this work and help clean up the Cam, we very much welcome and really need contributions towards the costs of the lab analyses, which cost up to £1000 per set of tests. Our aim is to collect data from five sets of samples over several months to investigate different conditions, and then we should be able to make statements with confidence.
We are grateful to our sponsors for supporting this work